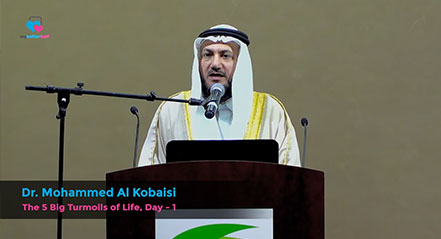 Load More Videos
Answers to your questions by

why you should not give up patience while facing a difficult time?
"And We will surely test you with something of fear and hunger and a loss of wealth and lives and fruits, but give good tidings to the patient, Who, when disaster strikes them, say, "Indeed we belong to Allah , and indeed to Him we will return." Those are the ones upon whom are blessings from their Lord and mercy. And it is those who are the [rightly] guided" (Surah al Baqarah)
The above three verses are from Surah al Baqarah, in which Allah has covered most of our issues and why they happen to us and what is what way out. Just because many of us remain ignorant about these issues we damage our happiness and also our akhera along with. Some people lose their patience and commit suicide.
Allah Almighty tests each and every individual and it is a part of life. Allah has already announced, " Do you think that you will enter Jannah without undergoing those hardships like your previous generations underwent?" Is entering Jannah so easy that you just recite Kalima and walk through the gates of Paradise. The previous generations underwent severe tests so that, "Allah would see who are truthful believers and who are false believers." These test...